Description
TYM's T233, 273 and 293 are our newest offering to the hobby farmer.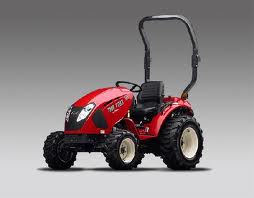 23-29 horsepower range provides plenty of power to operate the optional backhoe and QuickDetach front loader. The mid-PTO unit makes it easy to power additional implements like the mid-mount mower! New optional cab that features two front lamps, one rear lamp, 2 vent heater, and removable left and right doors.
The smallest member of the TYM family, at this time, the T233 is a perfect combination of form and function. Ideally suited for turf care, nursery work and those jobs that you just need a little help with. The T233 can also equip optional turf tires. Designed for use with category I implements the T233 is not just pretty it's pretty impressive!  All with hydrostatic power steering that offers hours of comfortable, low fatigue operation on a turning Angle of 50 °
Optional Loader and Backhoe attachments available!!!
http://www.tym-tractors.com/t233hstspec.php