Description
– Strong, continuous welded deck.
– Deck protection ring (3/8" x 2 1/2") prevents bent blade from contacting upper deck.
– High quality 160 HP gearcase is mounted to the deck with a 3/4" thick flange and 6 mounting bolts. Nuts are locked in place allowing the bolts to be retightened from the top side.
– A rugged 4 plate slip clutch protects the Category 4 drive line.
– Spun formed round stump jumpers ride over obstructions and prevents twine and wire from wrapping around the gearbox output shaft.
– Super updraft heat treated blades provide the suction needed to cut material that has been flattened by the tractor.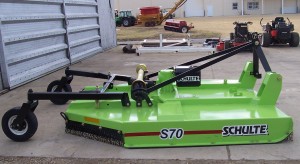 – Extra-long replaceable skid shoes add strength to the 10 3/8" tall side skirts.
– Dual Tail Wheels are standard equipment on 3-point hitch model.
– Standard double safety chains.