Description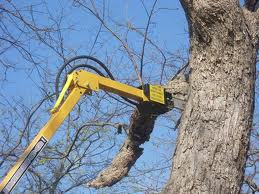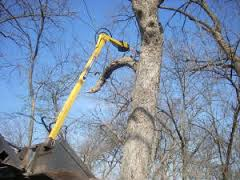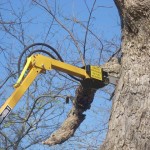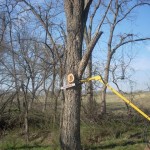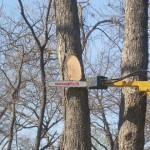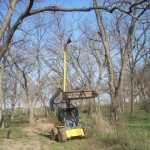 THE FAST, SAFE, EASY WAY TO TRIM TREES!!!
HOW IT WORKS: The LIMBHOG attaches directly to your tractor's front-end loader bucket and to your existing hydraulics. Just drive up to a tree that needs trimming, position the saw blade on a limb and engage your auxiliary hydraulics.
FAST, SAFE AND EACH TO USE!
Trim limbs up to 8 feet higher than your bucket can reach and never leave the safety and comfort of your tractor seat.
No ladders. No ropes. And no more standing in a bucket with chainsaw in hand while someone else drives your tractor. The danger of chainsaw injuries and falling limbs is nearly eliminated because you're nowhere near the saw or limbs.
The LIMBHOG runs at 5,000 RPM and cuts 5 inch diameter limbs in just over one second. It can trim up to 20 medium sized trees an hour.
Environmentally Friendly and Quiet: The LIMBHOG is powered by your tractor's hydraulics, so it doesn't use 2-cycle gasoline like a regular chainsaw.
2-cycle engines are loud and notorious air pollutants. The LIMBHOG's hydraulic system is so quiet you can hear the chain spinning and it doesn't pollute the air like a 2-cycle chainsaw.
With an ever increasing emphasis on protecting the environment, government regulated air quality stardards could someday virtually outlaw unregulated 2-cycle exhaust emissions. Since your tractor already has an approved exhaust system, you'll be ahead of any new regulations.
LIGHTWEIGHT AND STURDY! The LIMBHOG weighs only 78 pounds and is easy to attach and remove with just one person. The LIMBHOG Company designed the saw to be a Plug-and-Play unit, so installation takes just minutes. Simply bolt the provided receiver onto your bucket, pin the preassembled unit into the receiver, attach the hose and start cutting.
The LIMBHOG package comes completely assembled and even includes an extra chain.
For travel and storage convenience, the LIMBHOG folds up neatly and compactly.
12 MONTHS FULL WARRANTY!!!
Watch this Video to learn more.