Description
These double action Sickle Bar Mowers with adjustable 3 point hitch ensures a sharp clean cut on any type of grass. The safety breakaway bar helps protect the cutter from obstructions in the field.  The range of cutting angles is ideal for ditch, bank or hillside mowing where other options are limited.
Features: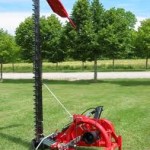 Three Point Hitch Cat. 1 & 2
Double Action cutter bar
Heavy duty shielded PTO shaft
High quality powder-coat paint
Cuts at 90° up and 45° down
Safety release
Ideal for hay or ditch bank mowing
Extra cutting blade included
At this time we have a New 8′ model
Please feel free to contact us for further information.